Things change rapidly in the WordPress world. The content in this post is more than a year old and may no longer represent best practices.
Six members of the East Bay WordPress Meetup group gave brief demonstrations of WordPress sites they had built. Here are some screenshots and notes.
Meetup organizer Sallie Goetsch briefly showed the back end of her new WordPress multi-site installation at www.rhymeswithsketch.com (nothing to see there yet, but eventually it will showcase all the "child" sites) with its three additional mapped domains. The difficult part was moving hosts at the same time as mapping the domains, because the domain mapping plugin tutorial didn't cover that part.
There will be a detailed multi-site and domain mapping meetup sometime in 2011.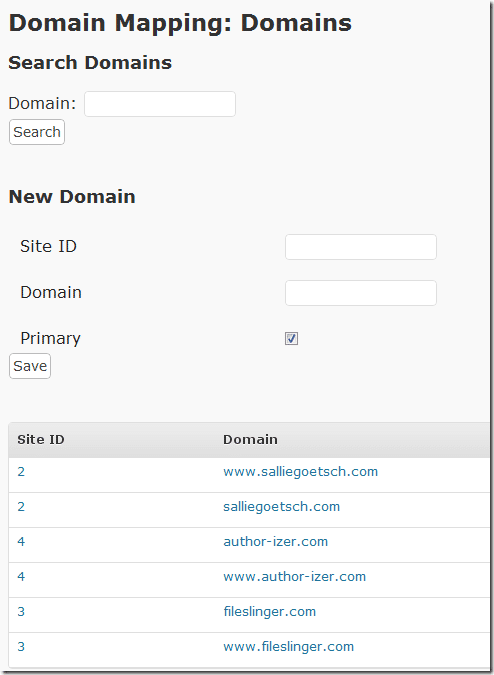 Gary Sanchez
Gary built boxwinebeautiful.com for a friend using the Thesis theme ($87 for the personal option and $164 for the developer's option). He's been having some problems with Widget Logic Widgets Reloaded 0.4.1 in the past few days, an error message that we speculated was the result of the recent WordPress security updates, but which was fixed by reverting to version 0.4.0 of the plugin (see Gary's comment below).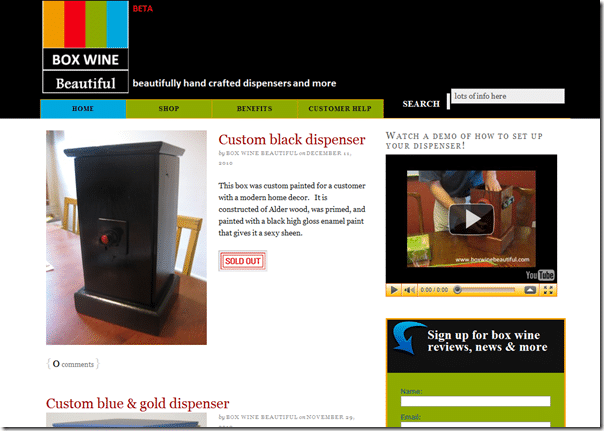 Andrea Smith
Andrea has been working on Black Box Magazine for a long time. She's been writing most of the content herself, and is hoping to find advertisers to fill those empty 125 x 125 pixel squares. The site is built on Premium News from Woo Themes. Premium News is an older theme, and free; Woo offers any three WordPress themes for $70. Andrea also uses  the SlideShow Gallery 2 plugin.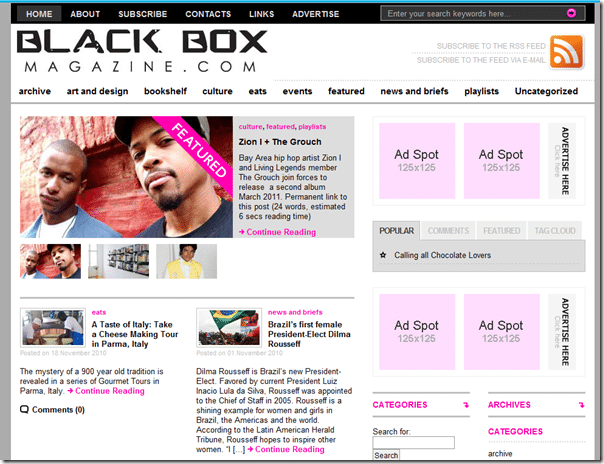 Julian Medina
Julian joined us from the Google code-in project to talk about the WordPress site he created for the Church of St. Leo the Great in Oakland. The site uses NextGEN Gallery, Events Calendar Event Calendar 3, and DMSGuestbook. (Yes, a guestbook, shades of 1994—but their old site had one.) The  theme is called Red Light. (Not to be confused with another, fancier Red Light theme.) Julian also mentioned a theme called American History which is no longer available from its makers but is lurking on code.google.com.
Ted Curran
Ted showed us his personal blog at tedcurran.net and demonstrated the way he uses Zemanta to find Creative Commons images and add lists of related articles to his posts, as well as automatically generating links out, the better to inspire more inbound links. You can use Zemanta as a WordPress plugin, a browser plugin, or a plugin for offline blog editors like Windows Live Writer.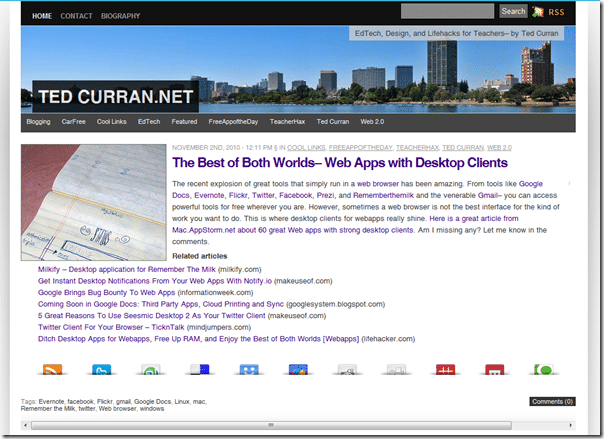 Ted also showed us his Chimera Designs site, which is for his business. Both these sites use themes from Elegant Themes. (Only a raving pedant like Sallie would complain about the font, which uses a sigma (the Greek S) for the letter E.) The Chimera site is built on a theme called Professional (that long fancy slider is built into it) and TedCurran.net is built on Vina. Membership in Elegant Themes is $39/year.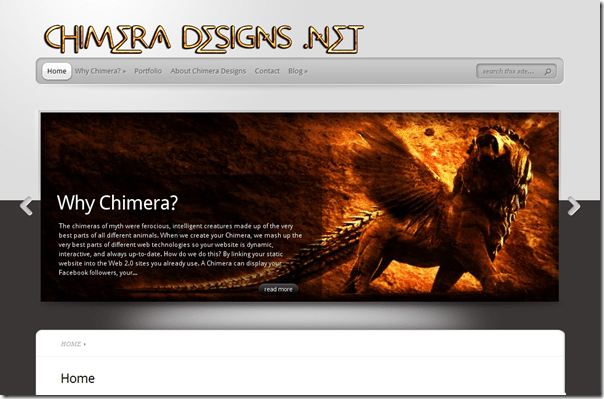 Rob Kristie
Rob is the sole developer for Cisco's 20+ WordPress blogs, recently converted from Expression Engine and not running on multi-site because they originally planned to go with VIP hosting at WordPress.com and that would have cost a fortune.  The site is completely custom-built, using as few plugins as possible and relying substantially on custom fields. One plugin they can't live without, however, is Role Scoper, which allows Rob to create separate blogs using categories and to restrict the access of different bloggers (authors) and editors to particular blogs. The sidebar relies on custom loops and a good deal of hard coding: right now, widgets are deactivated so that users can't mess with them. In Rob's opinion, the site suffers from Tweet Button overkill: there are so many different Twitter and Facebook buttons on each page that they represent a significant drain on resources and slow down page loading. (Not to mention the visual clutter they create.)
It's very impressive and will no doubt get better as time goes on—Michael Enslow was giving Rob some tips after the Meetup. We think this one belongs in the WordPress Showcase.