Things change rapidly in the WordPress world. The content in this post is more than a year old and may no longer represent best practices.
General Q&A
Q: When do you set up W3 Total Cache?
A: After you have finished setting up your site. Note that correctly configuring Total Cache can take an hour per site. Super Cache and Quick Cache are easier to use but not quite as sophisticated.
To find out what's slowing down your site:
Suffusion Theme Demo by Eve Lurie
See Eve's slides for more details.
Some points mentioned in the  demo:
Suffusion Markup and Hook Reference
Out of the box it looks gray and boring, but boy are there a lot of settings, and you can export your options, which is handy when you are migrating sites.
There's a sidebar layout diagram; Eve recommends printing it out and referring back to it. There's also a custom layout option using widgets (similar to StudioPress home pages).
You can hide and show headers and sidebars on a per-page basis. There's a featured slider option for the header.
Google Fonts are built in.
Suffusion now has child theme support, and the developer has a child theme pack, which is also free
Weaver II Theme Demo by Pieter Hartsook
Weaver Theme Demo List post on the Hartsook Letter
10 Reasons to Switch to Weaver
Some points mentioned in the demo:
Weaver started as a child theme of Twenty Ten and became its own theme. There's only one developer, who actively supports and updates the theme.
Two-column layout with widget.
Special video embed shortcode to style your YouTube videos to match the theme.
Per post styling features that also show up in excerpts.
You can insert custom widget areas wherever you want with Advanced Options.
There's an active support forum to which Pieter contributes sometimes; the  developer responds to questions promptly.
18 pages of documentation
Slider Options for header, etc (including one with a menu; that will also go into the sidebar) using Meteor Slides. You  can set per-post header images.
The developer license is a one-time $50 fee
There's a font CSS statement builder interface
There's a long list of per-page options, including "allow raw HTML" for using iframes and other tricky code that WordPress sometimes messes with.
Weaver is responsive even when not in mobile mode. There's a mobile emulator for smartphone, small tablet, large tablet. The menu converts to drop down in the mobile emulator.
 PageLines Demo by Kyle Stewart
PageLines Free in WordPress Theme Repository
Info about PageLines Framework
Developer license is $397, but if you contact Kyle he'll provide a discount code for those who were at the Meetup. (Ask Sallie if you didn't get his e-mail address.)
PageLines tagline: Drag & Drop Done Right
PageLines is "a design framework built on a development ecosystem." They take the granularity out of the options–the small tweaks are left in CSS. The best way to do small tweaks to a site is through CSS. Their aim is to provide easy ways to update the way content appears on the site. You can drag to resize sidebars. So far only two sidebars are supported.
Yes, PageLines is responsive.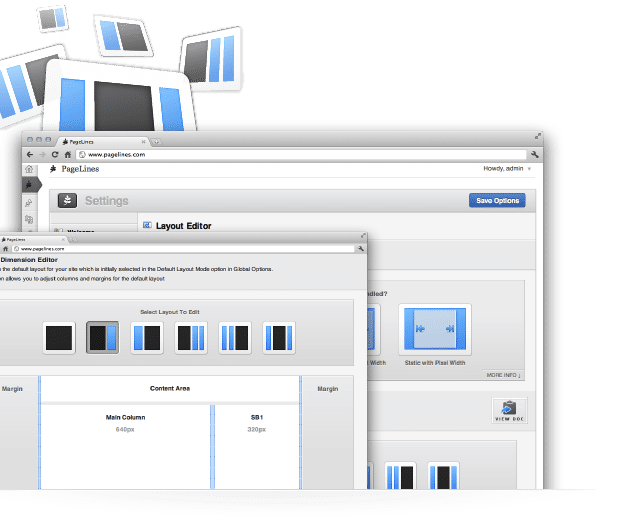 Sliders are AJAX. PageLines supports jQuery.
They've made color controls simpler and integrated LESS CSS.
Supersizing images (to use as page background) can be an issue in terms of mobile bandwidth–the display will look okay, but the load time might be a problem.
You can set up per-page backgrounds.
Takes design time down to 2-5 hours from 15-20. Of course, the CSS still takes up quite a bit of time; the idea is to speed up the first 90% of site design.
PageLines supports widgets and shortcodes. They have not taken away any core WP functions.
There's a PageLines store which sells add-on sections, child themes, and plugins.