Things change rapidly in the WordPress world. The content in this post is more than a year old and may no longer represent best practices.
Presenter Tip
If you need projector dongles for your MacBook, get them from Monoprice. They cost about half what Apple charges (even with shipping) and work just fine.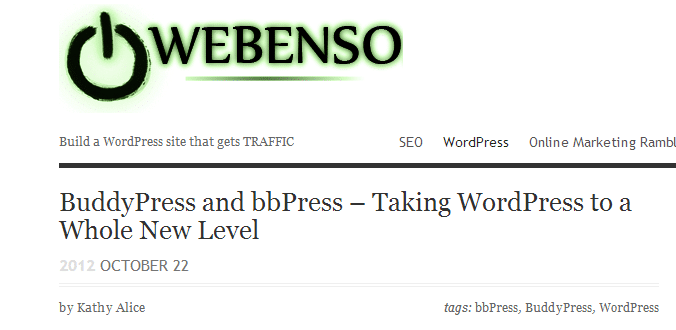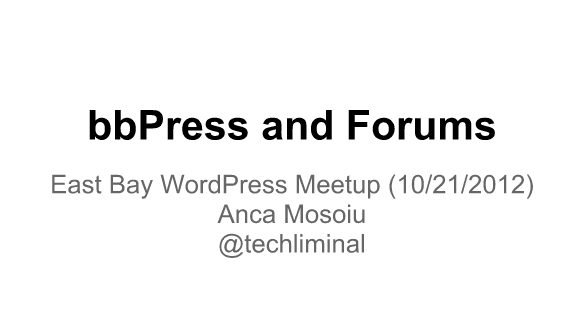 One very important thing Anca discussed was not just why you would want a forum (to allow your readers to engage in conversation with each other as well as with you; to make it easier to respond to questions and provide support; to encourage the development of a community), but the NON-technical challenges of creating a forum, including getting people to participate in it and moderating it once you have participants.
bbPress is not the only option if you want to create a user forum.
You can create a WordPress site that uses the P2 theme, which will turn the entire site into a forum.
You can use Facebook or LinkedIn for your forum.
You can create a network on Ning.
You can use forum software like Vanilla Forums, phpBB, or vBulletin.
You can use other forum plugins like Simple:Press or Mingle Forum.
But we love bbPress because:
It's made by the WordPress core team.
It automatically adapts itself to any theme.
It has a great Codex and support.
There are plugins to extend it in the Repository.
It integrates with the S2 member plugin so you can charge for forum access.
Bees! (See the WCSF 2012 presentation video  from the October handout if you don't get this.)
 Ben Hansen: Got Game and BuddyPress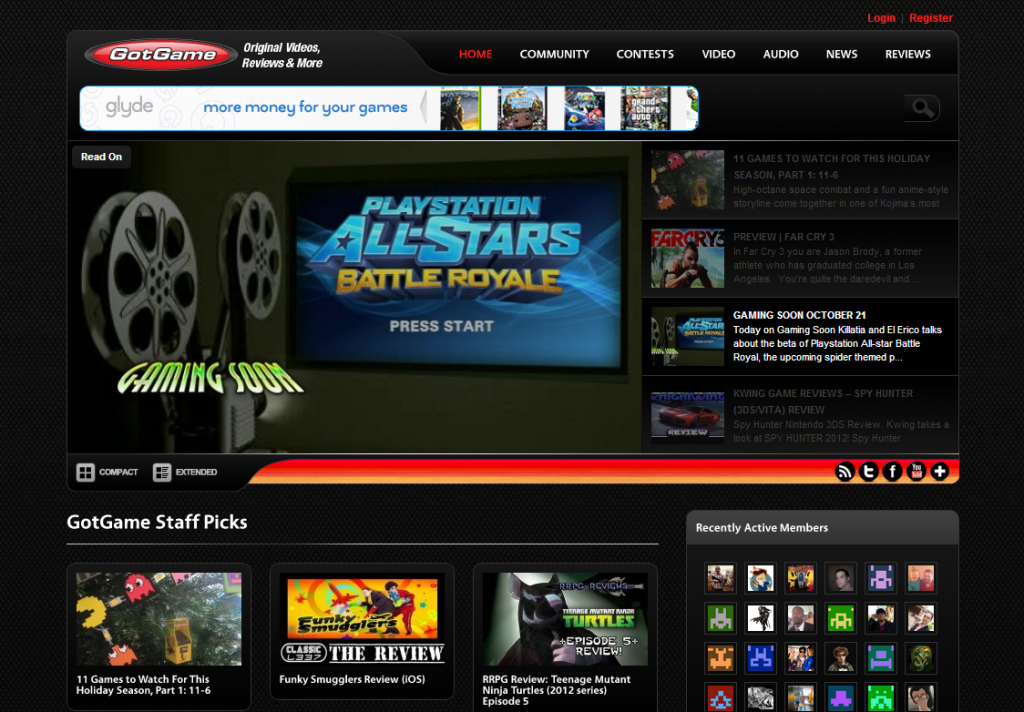 GotGame.com went from HTML to BuddyPress in an adventure of trial and error. There are now about 7000 users, including the spammers. The site runs on a VPS at Dreamhost. They started with BuddyPress 1.2. The theme is ReviewIt from Ghost Pool. It incorporates GD Star Ratings, uses custom post types for review pages, and includes a commercial license for the JW player. There are not many BuddyPress compatible themes available, and they've been very happy with this one.
One mistake they made early one was turning on the group forums, which just confused everyone. Sitewide forums are a much more useful feature. For some reason they make more sense to people. You have to join a group in order to participate in a group forum, and sometimes this can be a barrier. (Sometimes it can be a good thing–look at LinkedIn groups.) In spite of this, they have lots of groups, some public and some private.
Because of the subject matter of the site (video games), it's been a huge magnet for spammers, and the attempt to prevent spam registrations is a constant battle. The current version of BuddyPress has Akismet integration, but this only goes so far. (I remember this was an issue when I had BuddyPress activated on the EastBayWP site. There is a Stop Spammer Registrations plugin that it might be worth checking out, but see below for more on this subject.) He drops the ban hammer immediately on people who send private messages to people they don't know.
Ben showed some of the extended profile fields he asks people to fill in when they register, to indicate the type of games they are interested in (e.g. Wii, Xbox, Nintendo, Android, iPad, MMO, sports, first-person-shooter).
Steve Caramia asked whether BuddyPress would be a good choice for a client who has a family of products and envisions a place where people could discuss each of them. Ben's answer was that it depends on whether the client thought people were really likely to want to create a community, or just needed a bbPress support forum.
Plugins that Ben recommends for BuddyPress sites:
Eric Reynolds: Oakarts and BuddyPress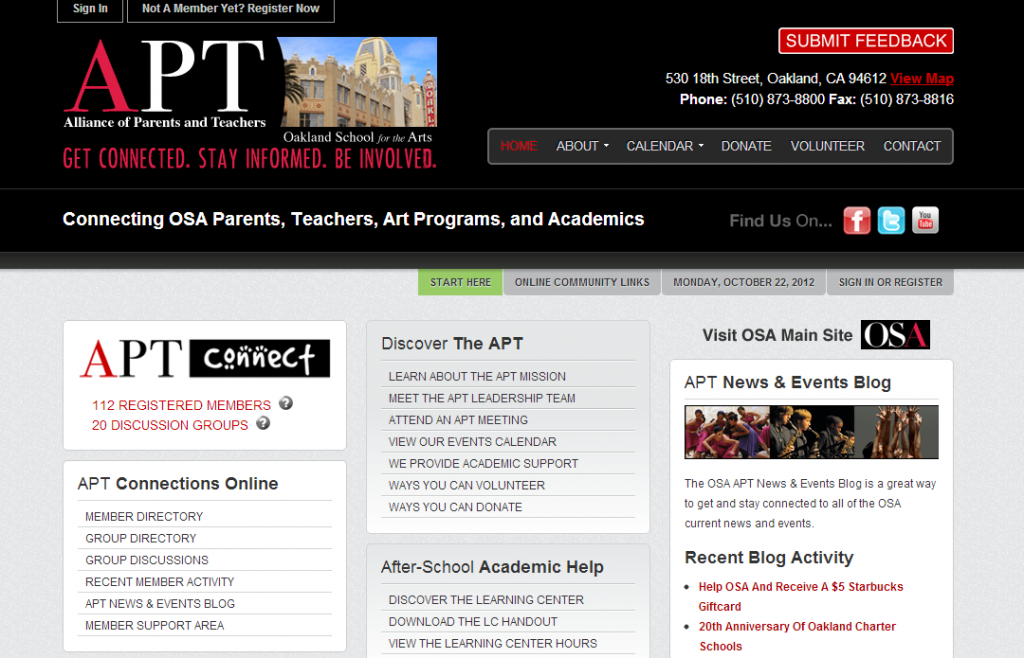 Eric has been using BuddyPress since 2005. His current baby is the Oakland School for the Arts Alliance of Parents and Teachers site. There are 111 members so far.
The site uses a custom theme that Eric built as a child theme of BuddyPress Default. It runs on a dedicated server at Hostgator and uses Cloudflare's honeypot services as well as their CDN.
Eric had to meet certain security criteria when building the site because this is one of Jerry Brown's charter schools. He uses a service called WangGuard, based in Mexico Barcelona, to block spam registrations. There's a WordPress plugin for it.
Not surprisingly, the extended profile fields on this site are a bit different from those on Got Game. These ask about your affiliation with OSA, which art school you (or your child) are affiliated with, the student's, grade level, and the student's name.
It's important to know your community. Eric recommends books on designing user communities because they tell you about things like making your interactions friendlier. You can use the .pot file (meant for translation) to change terms like "log in" and "log out" to "sign in" and "sign out," which sound friendlier and less geeky.
Especially because 25% of the parents of OSA students don't have computers at home, it's important to explain every step of the registration process, and every step of using the community website, to them. Tell them what to do next. The BuddyPress Welcome Pack plugin is helpful for this.
Although Eric says that you don't need a lot of plugins to make BuddyPress work–it comes with a lot of great features out of the box–he has a LOT of plugins installed on this site.
One that isn't installed on this site, because the administrators didn't want the parents or students to upload possibly offensive materials (would students do THAT?), is the plugin once known as BP-Album, but now hosted at code.google.com as BuddyPress-Media. (And not to be confused with the plugin in the WordPress.org repositorycalled BuddyPress Media, which also looks like a perfectly acceptable plugin.)
If you want to search for BuddyPress related plugins, do so on the WordPress.org repository, not in the BuddyPress.org repository–there's a bug on the BuddyPress site right now.
All of us are looking forward to the day–coming with BuddyPress 1.7–that BuddyPress will integrate with all WordPress themes, the way bbPress does.
Thanks to all our presenters, and see you next month!