Things change rapidly in the WordPress world. The content in this post is more than a year old and may no longer represent best practices.
Slides
At the May 2017 meetup, Ben Byrne from Cornershop Creative walked us through what WordPress Multisite is, when to use it, when not to use it, and possible drawbacks and gotchas when using Multisite (even as directed). Ben has kindly shared his slides with us.
Multisite East Bay

Outline
Multisite Is…
Good for…
Bad for…
Cons
Enabling Multisite
URL Handling
Subdomains only after 30 days
Open & Closed Networks
Never build a network without define( 'DISALLOW_FILE_EDIT', true );
Network Admin Role
Shared Users
Shared Themes & Plugins
Not all plugins are Multisite compatible
Sharing content across sites with the Broadcast plugin
Technical Details
Network Database Tables
Per-site Database Tables
Confusing terms: "Site" and "Blog"
Ramifications of Multisite code history & terminology
switch_to_blog() is playing with fire
Newer functions in Multisite
About Ben Byrne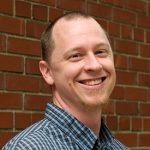 Ben Byrne is one of three cofounders of Cornershop Creative, a web services agency that plans, designs, builds and maintains websites — mostly in WordPress — for nonprofit organizations and educational institutions around the country. As Chief Creative Officer, Ben oversees most the design and development work that Cornershop does.
Ben has a BFA in Graphic Design from Iowa State University and has been working on the web professionally for about 20 years. He has presented on the difference between print and web design, web typography, WordPress widgets, high performance front-end performance optimization and other topics at various organizations and events, including several WordCamps.
Twitter: @drywall
Email: ben@byrnecreative.com