Things change rapidly in the WordPress world. The content in this post is more than a year old and may no longer represent best practices.
Here are some notes from the Q&A session of the May 2014 East Bay WordPress Meetup, and also a few from the presentations on Google Webmaster Tools and the WordPress SEO by Yoast plugin.
Go Daddy WordPress Hosting
For years, no one–including Pieter Hartsook–has had a good word to say about Go Daddy when it comes to WordPress hosting. But Go Daddy recently introduced managed WordPress hosting, and it actually works. (Pieter tested it, and unlike Go Daddy's regular hosting, it's fast.) What's more, right now it's on sale for $1/month.
No one at Go Daddy knows how long the sale will last, so if you're interested in trying it out, you should probably head over there now. And yes, if by some mischance you have Go Daddy's ordinary shared hosting, you can switch to this new service. Since you could hardly do worse than the regular shared hosting at Go Daddy (unless you were moving to 1 and 1), you should definitely move any WordPress accounts you have on Go Daddy over to the new Managed WordPress hosting service.
Atahualpa Update Issues
Diana Thompson has a strange issue with WordPress and Atahualpa. She just took over a client project with an outdated version of both WordPress and Atahualpa. She's duplicated the site locally (same WP version, same theme version, same plugins, same content), but for some reason gets "You do not have permission to access this page" errors when trying to edit posts and pages.
Suggestions included checking to see that the PHP and MySQL versions were the same on both the local and live installations (since it is possible to edit posts and pages in the live install), but, since the local installation is expendable, to just see what happens after upgrading both WordPress and Atahualpa.
Video Embeds Aren't Working
Lisa Bigeleisen has a client for whom YouTube embeds fail to work, either when using oEmbeds or when copying the embed code. Though the site is still running WordPress 3.6, YouTube oEmbeds have been part of WordPress for several versions now, and ought to work.
The consensus in the group was that something–either a plugin or something in the theme's functions.php file–was causing a conflict with the native embed function of WordPress. (I have seen this happen before. Sometimes using the shortcode helps, and sometimes it doesn't.)
Italics Not Working
Anthony Bello has a site where italics are not showing up in posts, even when the <em> tag showed up in the HTML editor. Everyone suspected there was an issue with the CSS, and so Pieter Hartsook's inspection of the theme's stylesheet after the meetup proved.
Ultimate Tiny MCE Breaks in 3.9
Bob Hemstock complained that Ultimate TinyMCE, a plugin he relied on, no longer worked in WordPress 3.9. He had especially relied on it for inserting tables.
Pieter Hartsook explained that if you wanted to regain the functionality provided by Ultimate TinyMCE, you should install the WP Edit plugin instead. WP Edit will import your settings from Ultimate TinyMCE.
How to Search Anonymously
If you don't want to see local search results, or other results that are tailored to what Google knows about you, go to megaproxy.com, click the "try it free" button, and enter "www.google.com" in the URL box.
If you are going to need this service often (e.g. to check SEO for clients), you might want to get a paid account.
Keeping Up with the Changing SEO Landscape
What worked yesterday may not work today. How do you find out what search engine optimization techniques are going to be successful?
How to Ask Google to Re-Index Your Site
We mentioned that doing this was possible with Google Webmaster Tools, but not specifically how. The section of Webmaster Tools that you want is "Fetch as Google," in the "Crawl" section.
To submit your entire site for indexing, leave the URL box blank. Once the home page has been fetched, click the submit button and check the radio button that says "URL and all linked pages."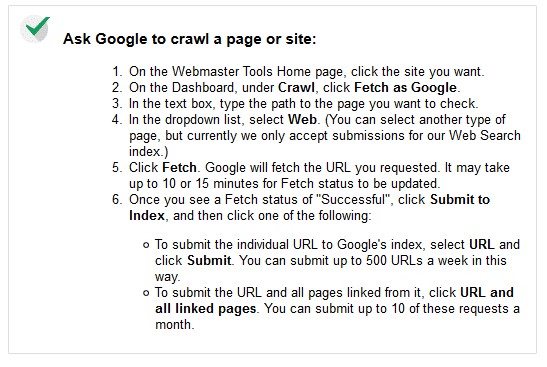 Google Authorship with Yoast SEO
There are instructions in the Webmaster Tools slides about how to use All in One Webmaster to verify Google Authorship, but you can also use WordPress SEO by Yoast to do this. I found a nice tutorial on it this morning.