Things change rapidly in the WordPress world. The content in this post is more than a year old and may no longer represent best practices.
Slides
Here are the slides from Lou Anne McKeefery's presentation about SEO for WordPress on June 22nd, 2014.
wordpress-seo

Worksheet
This is Lou Anne's Keyword Silo Worksheet (you can download it in Excel format)
Notes
Google is limiting the things you can do for free. For instance, you need to pay to appear in Google's shopping results. More than that, 80% of SEO is "off page"–determined by things that happen elsewhere than your own website. (The part of off-page SEO that you do control is your social media profiles and activity and how those relate to your website.)
This talk focuses on the 20% of SEO which is "on page," the part you do control with what you do on your own website.
To see how you're indexed, type in site:domain.com. To see what's cached, type in cached:domain.com. This isn't 100% foolproof, because sometimes Google will do what it damn well pleases.
The way people search is changing. Younger people search images and videos rather than text/web. That means it's important to optimize your images (file names, ALT tags) for search. Video search is technically off-page, but you can optimize your videos at YouTube when you upload them. (Vimeo too, I presume.)
One important factor in WordPress SEO is your permalink structure. For SEO purposes, the best permalink structures are /%category%/%postname%/ or just /%postname%/.
Use breadcrumbs to help guide both humans and search engines through your site. If your theme doesn't have them built in, you can use the breadcrumb feature in the Yoast SEO plugin.
Keep your H1, H2, and H3 tags in the proper order of importance. H1 is supposed to be the most important item on the page. WordPress normally shows your blog post title as H1 in the single post view and H2 in the blog index view.
Edit your page meta description. This doesn't help the search engine itself, but rather entices people to click on the link once they see the search results. (Yoast SEO lets you edit this, and also the page title if you need one title for the search engine and another for the readers.)
Don't use multiple keywords/phrases in your URLs or page titles–Google doesn't read these, nor URLs with multiple dynamic parameters.
XML Sitemaps are important to help search bots find their way around your site. Yoast SEO generates them, or there are separate plugins to create them. (WP Engine requires a different sitemap plugin.)
Use the robots.txt file to tell Google which files and folders not to index.
If you have rebuilt an old HTML website into WordPress, make sure you set up 301 redirects from the old pages to the new pages. There is a plugin called Redirection that will do this, but it's actually more efficient to use the .htaccess file.
Check for broken links–but don't leave the Broken Link Checker running all the time. It's a terrible resource hog. Run it and then turn it off, or use an online service.
Be aware that search engines can't read JavaScript or text that's contained within images (though they do read ALT tags on images).
Google dislikes orphaned pages–which is what many landing pages and squeeze pages are, because they are not part of the navigation and don't link to other pages in the site. You might want to set those pages to "noindex." (You're probably directing people to them via a marketing campaign, rather than expecting people to stumble across them in search.) You can use the Advanced tab in Yoast SEO to set any page to "noindex."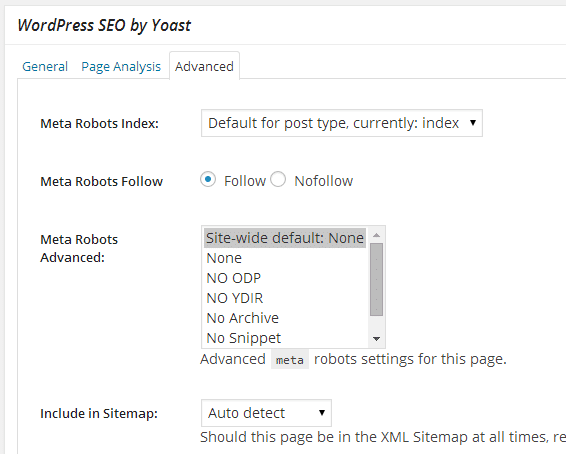 Redirecting before showing content is a red flag to Google. So are some former black hat techniques like hiding keywords in fonts that match the background color, or "cloaking"–showing one result to visitors and another to search bots.
All SEO projects rely on keyword research. Lou Anne likes to use Wordtracker (there's a free trial, but apparently they are no longer accepting free user signups). You can collect some information just by seeing what Google suggests when you start typing. Yoast's SEO plugin will also make suggestions for you when you start typing a focus keyword. Be aware that Google's keyword suggestion tool bases its suggestions on paid search rather than organic search.
Start with the less-competitive keywords. Go for the low-hanging fruit.  Keep track of the page names you use the words on. Put the keywords that you've optimized for into your meta tag field because then you can track them more easily. (If you're using Yoast, you have it there.)
Use hierarchical design of pages. Also of categories.
Make sure to include your keyword/phrase in your post title, permalink, meta description, and throughout your content. Also name your images with keywords and use keywords in your alt tags, title tags, and captions for the images.
Use your keyword research to determine the site's post categories. Silo the site content using Lou Anne's worksheet. Don't use more than 2 keyword phrases per post.
Page speed is increasingly important for SEO these days. Good hosting is the best thing for this, but in addition to that, you should optimize your images, css, and scripts, and use a CDN. You may want to use a caching plugin if your host is not providing sufficient server-side caching. (But be careful setting up W3 Total Cache: if you do it wrong, it will make things worse.)
Measure your results. Lou Anne likes My SEO Tool ($39/month, worth it if you are a professional or your business depends on SEO.) Also, set Google Analytics up to track your internal search queries.
Schema.org markup is currently important for recipes, reviews, and local search, and will be important for e-commerce soon.  There are plugins like Organization Schema Widget and Local Business SEO that include schema markup for specific purposes, but nothing comprehensive yet. In certain situations, it can be a real SEO secret sauce.